Cybergrrl.com
Webgrrls.com
Femina.com
Advertise
Contact Webgrrls
Take our survey!
Staying Sane in a Technical Crisis
It happens to everyone at the worst time, but you have the power to fix it.
By Diana Barnum
"Uh, Houston we have a problem."

Ever have technical problems with your career? You have the story ideas and thoughts flowing, you're surfing the Net, submitting email queries with your right hand while talking on the telephone with your left, your kids are coloring on the floor around you--life's just clipping along. Then it hits; your Internet connection breaks! No more email, no faxes that use your web server, no surfing--nothing happens. Ouch. What do you do?
Remain Calm.
As in the show and real-life situation of Apollo 13, stay calm. Remember all of us go through this--and more than once. Even though this seems disastrous, your editors and interviewees, etc. all have had similar events happen to their computers, and will understand delays in cyberspace. And in the worst case scenario, there are over 8,000 markets in Writer's Market 2000 alone who are looking for writers. With your experience behind you, new queries can be sent out in minutes to jump-start new business to offset any that was lost.
ISP Down? Connect a Secondary Service.
I keep all of those free disks that float through my regular mailbox offering free online service. Even Kmart has one! Then when my regular provider goes down for whatever reason, I download one of these freebies and get going again. In the event I need to use email, I add a note telling recipients that this is a temporary address, and to keep me at the old one, which I list under my signature.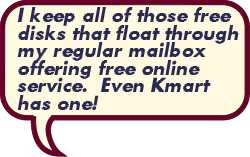 Quick Fix to Email Interruptions.
A major problem using a secondary service provider is that you cannot access your regular email account. If your regular account is not a free one, click on MailStart and simply type in your email address and password. (Some free services are not accessible this way.) This site will bring up any new mail. You can save, delete and reply as normal under that old address, too. If you need to manipulate attachments, just click on the icon of the WebBox on the Homepage and complete the account page to start your own free account. It only takes a minute or so and doesn't ask for credit card info or anything like that.
Don't Do It Alone: Reach Out.
In the virtual world, try communicating through message boards at Geek.com. Beginners through advanced computer users post here and help each other with all kinds of problems like software, hardware, etc.

Also reach out via the telephone. Call local service providers and talk to technicians. These folks lead me to that MailStart site! They even taught me how to go to my start menu and get a lot of items out of there that automatically opened ran all day long, causing my system to run at a lower rate of efficiency - creating minor crashes and glitches frequently.

In the real world, contact a local computer group for interaction. A list of groups can be found in a free monthly copy of ComputerUser at the public library. Check at the reference desk, if no issues are out in the open. The librarian may be able to direct you to other publications as well for help. The Columbus Computer Society in my area offers computer classes, guest speakers, and many activities for networking and making new friends. Another group that meets is for Technical Writers, and offers opportunities to upgrade writer and computer skills - and even find work!

Also check your browser monthly for updates. I use Microsoft Internet Explorer. Click on "Tools" and then "Windows Update." This site will immediately check your system and tell you what updates, if any, are recommended. Your browser may need updated to handle upgrades that your Internet service provider installed the night before (without telling you).

Educate yourself to keep up with the times. I personally enrolled in online classes at Moving Ahead Tech. A year-long subscription allows access to over 365 classes on writing, web page building, interview skills, word processing, resumes, computer basics and much more. I'm getting Continuing Education Units and Microsoft Certification--and all look great on the ol' resume. For no additional money, my family can jump aboard and take classes, too. My 11-year-old is taking HTML and can now make and download his own web pages! He's my assistant now, by the way. Kids can take math, grammar, SAT preparation and more.
Ask A Kid.
One great source of help is your child. I had no idea, but when my laptop wouldn't work right, my son could fix it. He knew from school and his buddies how to reboot, manipulate files--even the spell check, how to change hard drives, and more. It's amazing what kids know today! So don't be afraid, or too proud to ask your youngsters. Kids even have their own network; my son calls his friends to help out, too!

Good luck, and remember: when those astronauts did have a problem, they might have by-passed their goal, but they did return. And so will you. It might seem a little scary and a lot confusing, but eventually all systems will be "go."

Diana Barnum, a freelance writer in Ohio. She can be reached at bdbarnum@copper.net (unless the mail server is down..!)
Discuss it in the Webgrrls Business Forum!