by Diana Barnum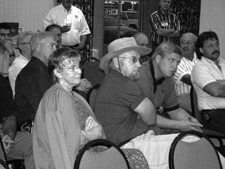 How does this sound? Utility facility owners must be members of One Call System, Inc. or pay mandatory fees to the Attorney General. Membership is required by law. In Pennsylvania. Not in Ohio. But the members of the Ohio Horizontal Directional Drilling Association (HDD) are working together to make it Ohio Law.
"The Pennsylvania Utility Commissions even helps resolve responsibility for damage and collect for down time," said Ed Schwartzkopf, supplier representative of the Ohio HDD and representative of Ditch Witch of Ohio.
Schwartzkopf spoke up during the panel discussion Partnership in Protecting Underground Utilities held last week in Bellville, Ohio, hosted by the Ohio HDD during their member meeting. Featured guest speakers at the event included Gregory A. Obsincs, president and chief executive director of Ohio Utilities Protection Service (OUPS), Howard E. Laudermilk, project manager damage prevention for Ameritech and Joe Carlton, district manager for SM&P Utility Resources, Inc. in Akron.
The meeting "with standing-room only" offered members a chance to learn more about underground utility operations in relation to their digs and to openly ask questions of the panel.
"This won't be a bloodbath," said Ron Cook, head of HDD operations for
Cook Paving & Construction Co., Inc., and president of the Ohio HDD. "The Board is looking for ways we can work together for safer environment. ...The most important things that happen on a job site happen 48 hours before we get there. And those people are the lowest paid in the industry."
At best, the lines are often mis-marked. Repeated calls to locators, utilities and even OUPS operators often yields little results. Contractors are left with lost time on job sites, sites awaiting new markings and /or repairs, and lost revenue due to inactivity of crews or down time, fines, penalties, insurance increases and wasted time making repeated phone calls. Cook brought a documented report of seven calls he had placed for one site to get help. An OUPS representative took the report for follow up after the meeting.
"Data is critical to us," said Greg Obsincs. "It tells us where the process broke down."
Obsincs opened the meeting with a presentation the one call process in the State of Ohio and new technology advancements on the Internet that enables excavation reporting online at OUPS.org. Tickets are stored for two months. Last year over 110,000 tickets were entered; this year 130,000 tickets are anticipated.
Laudermilk followed with a presentation highlighting the benefits of the "Best Practices Guidelines" in regards to utility location with an emphasis on working with the HDD industry and eliminating damages and lost time.
"Embrace damage prevention," said Howard Laudermilk. "We have one of the best manuals around (the Best Practices Guidelines). Embrace it. Follow the practice."
The Guidelines are free to Ohio HDD members, available upon request.
"And it doesn't matter what people are paid," Laudermilk said in response to Cook's earlier statement. "Everyone needs to have a good work ethic."
Laudermilk emphasized:
* White lines - paint so people will know where you are going.
* Always honor tolerance zones - watch borehead pass underground structures.
* Develop a written damage report form of your own.
* Develop a relationship with structural owners, facility reps.
* Designate someone to attend council meetings.
* Have a copy of damage prevention guidelines on site.
* Every truck should have a Polaroid camera - of course, take care of emergencies before stopping to shoot photos.
* Make sure crews know who to call first: 911, OUPS, etc.
* Contact the One Call Center, OUPS, and let them call all the utilities for you.
* Get a competent person involved.
* Hold joint meetings on site and the locate company and let them know what you intend to do.
* Locate companies: contact the contractors!
* Record any details of meetings, have people sign them, then distribute copies of them afterwards.
* Finalize damage report as soon as possible.
* Develop down time invoice and send it to utility companies for payment.
"If we drive up your costs, you will drive up your costs to us," said Laudermilk. "We need to break the cycle."
Ohio HDD members had some questions at this point.
"For non-members of OUPS like small utility companies, what can we do to help pass legislation to make them become members and accountable?" asked Mark Rogers, owner / operator of Integrity Boring of Bremen, Ohio.
OPUS will call and offer to send someone out to the utility company to discuss benefits of membership. OUPS provides documentation that stands up in court hearings.
"Once you get an OUPS tickets, you're liable to mark," explained Obsincs.
"Utility council meetings are a good place to start," said Laudermilk.
That said, John S. Christ, manufacturer representative of the Ohio HDD and sales representative of Baroid - IDP, delegated area council meetings to members of each locale represented in the group.
Another attendee comment at the meeting was, "We've held pre-construction meetings and they (locators) don't even show up. Even after calling cell numbers," said Dave Spears, of Spears Brothers in Sandusky. "We're constantly battling utility companies - OUPS members or not."
Laudermilk told the HDD members to document whom they talk to for liability issues and call him. He would come to the meetings. Groups like the Ohio HDD carry a louder voice than individuals.
Obsincs said to get a list of whom you called to OUPS and they would help.
Attendee Jim Richards of Bishop Construction Company offered some help, "I've taken companies to small claims court and won a couple of times, retrieved all our money back. When a judge says something, he means it."
After some discussion with the audience, final speaker Joe Carlton discussed his companies' locator service operations. He described the certification process for their locators. After four weeks in the field, there is another 90 days before certification, not on a State level - there is none, but through their company. Then workers log in 30 more days before working for high profile facilities.
"Communication is extremely important," said Joe Carlton. "Our technicians' numbers are posted everywhere."
Carlton advised contractors to maintain marks on long-term projects. Stake out sites and call them in every 10 days. Call OUPS and call the locate company. Regarding emergencies, they have to respond to "true emergencies" within two hours.
What is a "true emergency?" When a traffic device and / or major underground line is impaired.
At the end of the meeting, Ohio HDD members networked with the speakers and each other, discussing ways to get new law into effect to not only help contractors, but utility owners and operators, home owners and other community members.
The bottom line is Ohio needs a law like Pennsylvania.
For more information on One Call service membership, contact OUPS at 4740 Belmont Avenue, Youngstown, OH 44505. Call: (800) 362-2764 or fax inquiries to: (330) 759-2745. Visit them online at http://oups.org . To learn more about the Ohio HDD Association, write C/O Dan Schlosser, P. O. Box 310, Caledonia, Ohio 43314. Call: (800) 537-6585; fax inquiries to: (419) 845-2026 or visit them online at ohiohdd.org