...Your Choice. Finally a program customized for Your Needs - -and Super Affordable to Boot! It's crazy, that's for sure!
- Set up any of the above for regular monthly IM (Internet marketing) & it's automated! Set up one account for each site or project & automate more at only $8 each.
---
"Check out the other Benefits & Bonuses!"
With our articles, you can:
- Get help. No need to worry about Worker's Comp, health insurance costs, benefits packages, etc. We're a team of freelancers; work with us and forget all that.
- Get away for a vacation, recover from burn-out or just take a breather for awhile: short-term or long-term, while we do the work.
- Save time and money and get your projects in motion (put them on auto-pilot)!
- Enjoy yourself, your family - - your life more. With increased help, time, income, savings, sales and marketing, you can decrease stress, long workdays and work weeks, hectic running around and juggling.
- Grow not only in the business realm, but in other areas. With extra and improved quality time, energy and resources, grow and round out your life; be more sociable, reach into your spirituality, give back to the community more...
- Take advantage of Member Bonuses: neat downloads to use with projects, lots of PLR articles from us to use and more. See partial list:
Here
.
Bonus!
88 Ways to Start or Grow Your Business - Many for $8 or Less!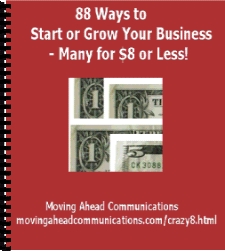 Get help right away starting or growing your business with our FREE guide. No experience necessary. Something for everyone from newbies to advanced!
---
Notes:
- Our membership site is at:
http://www.movingaheadmemberships.com
- Each article is checked with www.copyscape.com (to check research, outlines, etc.)
- Members use the
Warrior Forum of Allen Says
for discussing PLR articles and article marketing.
- Our main site here and our blog at:
http://movingaheadblog.com
both offer helpful articles about using content to help grow your business.
- You'll spot my email, phone number, address (been here roughly 10 + years; own home, yada, yada, yada....), etc. on nearly any and all pages of my sites. Not into "scary" on line transactions and zero follow up & / or silence, etc. here!
- Payment includes revision work - within reason, obviously at the price - -but want you to get what you ordered and can use & be very happy and re-order, brag, earn big bucks and remember some help came from your articles & services from here when you give your power speeches, etc. - of course giving my group and company a free plug :)
---
Rights You Get with Your Ghostwritten Article Include:
[NO] Includes Sales Page
[YES] Can be given away
[YES] Can be packaged
[YES] Can be offered as a bonus
[YES] Can Be Edited Completely and Your Name Put on it
[YES] Can be used as web content
[YES] Can be broken down into articles
[YES] Can be added to paid membership sites
[YES] Can be offered through auction sites
[YES] Can Sell Resale Rights
[YES] Can sell Master Resale Rights
[YES] Can sell Private Label Rights
Do what you want, the articles are yours!
---

So get moving with your projects and order today. This limited offer may expire at any time. We have pulled it before, & even raised the price to $16 instead of pulling it altogether, because we did not want to overload our writers. Quality over quantity is our goal.

But, good news! We have more help and are ready to help more Warriors with their projects. Bottom line: if we can't deliver, we don't offer the service at this special rate. And we do try to keep it available as much as possible, only closing to temporarily get caught up as needed so that each order is customized like you want. It's that simple!

So order your articles today. And get moving ahead with your projects: your autoresponders series, blogs, ezines, ebooks, reports, courses, guides / manuals and more. You can't beat this much help for roughly 25 cents per day!


---
Thank you for your interest. However, this program is FULL at this time. Please sign up and we will notify you when we have openings: (all info remains confidential)


---
Crazy 8s! @ $8

Crazy 8s! Membership

Only $8 per month
Note: Please contact us for other methods of payment.

Once you pay, you will use our Membership site and blog at:
http://movingaheadmemberships.com
http://movingaheadblog.com